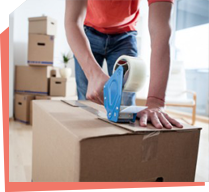 RemovalsMates provides packing services in London as an addition to the removals services. We can pack anything to help you relocate safely.
Good packing is vital for every person who is planning to move house. Our company is occupied with providing packing services to alleviate moving out. We are headquartered in London and offer 7-days-a-week service complied with your personal needs.
Our goods packers have mastered a number of skills regarding packing. They are prepared to help you relocate all your stuff from your old property to the new one in a safe way. The packing process takes a few hours.
We provide the following:
Specialty bags and boxes
Safe packing and unpacking
Additional level of protection
What are the steps to arranging a packing service to be done for you? First off, you get in touch with us. We discuss the matter and schedule a date. Then we send a team. You need to be in your property on the day when the service is set to be conducted. Our packers will do the job and leave. That's it.
Every team we send to customers' properties contains of one packer or more and a person who monitors the work.
We have different box sizes. Some of them are designed for storing breakables. Others are big enough to hold large items such as musical instruments, works of art, small appliances, furnishings and others. We have enough boxes to cover every item you need to pack. And we can even ensure an additional level of protection for your stuff – some items need extra attention.
Our workers will come on time for the service. You need to let them in your property so they can get the job done. They will be bringing all the boxes and other materials needed to pack all your stuff. They are strong enough to deal with bigger items.
You can sit peacefully and watch our workers as they do the job. Small items will be stored in small boxes. Some items may be combined. You can supervise the process. All the packing should take a couple of hours. It matters whether you've got just a few items or a great deal of belongings. We can send as many workers as necessary to get the job done.
If you need further details about the way we operate, don't hesitate to give us a call. We'll explain everything in detail.