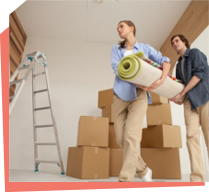 RemovalsMates provides reliable home removals services in London. Our movers have years of experience in relocating homes around London and UK.
If you are moving to a new neighbourhood or even to another city, then you will most probably need a hand, so as to be able to safely transport all your possessions to the new location. If so, feel free to contact us. We are a London-based company that is proficient in the provision of extremely careful and sophisticated home moving service. We cover all addresses in London and we operate every single day without exception. So you are more than welcome to contact us and book for a day you find most convenient.
Choose us, for we are perfectly able to make your moving out less time-consuming and stressful!
Our Excellent Home Moving
Switching homes is an extremely demanding task to deal with. You need to gather all your belongings, pack them, load them, and try to transfer them to the new place without harming them in any way. Now you can spare yourself this whole hassle, for our excellent movers will be more than happy to help you. They will arrive at your premises at a time that best fits your own schedule and will take care of everything.
We believe that our home moving is just what you need, for:
We can provide you with the peace of mind you need so much right now
Our service is customised in a manner conforming with all our customers' specific needs; that is, with your own needs, as well
All moving-related activities are performed by professionally trained and skilled movers
They load our customers' belongings into perfectly sanitised trucks, equipped with special pads and fastenings for their smooth and trouble-free transportation to the desired destination
You need to know that we offer an optional packing/unpacking service that will also be performed in the best possible manner. Our employees always use recycled and recyclable boxes and paper for the purpose, for we have adopted an environmentally friendly working policy.
If you are interested in our home moving service, feel welcome to contact our twenty-four-hour call centre, in order to ask for all the information you need and to book. As already mentioned, we operate daily and we are flexible with appointments. That is, we accept even last-minute calls. What is more, we will certainly provide you with as many movers as you need, so as to perform our service in the quickest and most efficient manner.
Mind you, we deliver our home moving all around London included. Book with us for a hassle-free moving out!